Sidebar
Warranty :
1 Year Warranty

الدفع عند الاستلام

Product Description
Electronic Patient Lifter - JIANLIAN - JL9102 -
An electric patient lift ( hoyer ) that operates with a battery charging Electronic Patient Lifter designed for home use, provides high flexibility in controlling the transfer of the patient from the wheelchair to the bed, toilet or sofa and vice versa, with a very high carrying capacity of 180 kg

– CBP2 control box is powered by battery pack, 
which is specially designed for patient hoists or
   stand-up lifts. It's built with soft-start / stop 
function to provide a safer and more comfortable
   user experience. The LCD display shows the 
battery status and some warning signs, such as
   low battery, over-duty, overload, and reminder 
to replace lifting actuator. Moreover, CBP2
   provides different input voltage for different 
charger types, including internal transformer
   and internal / external SMPS.
–  Main applications: medical, home care use


SPECIFICATIONS
Product Size:

 120o 

x

 62o 

x

 1225 mm (LxWxH)

Maximum Fork Range:

 80o mm

Lifting Range:

 85o mm (lowest), 175o mm (highest)

Max speed at no load:

 16.6 mm/s

Max speed at full load:

 6.7 mm/s

Input power:

 DC24V

Motor:

 24V/800oN

Load Capacity:

 185 kg

Net weight:

 45 kg

Noise:

 65dB(A)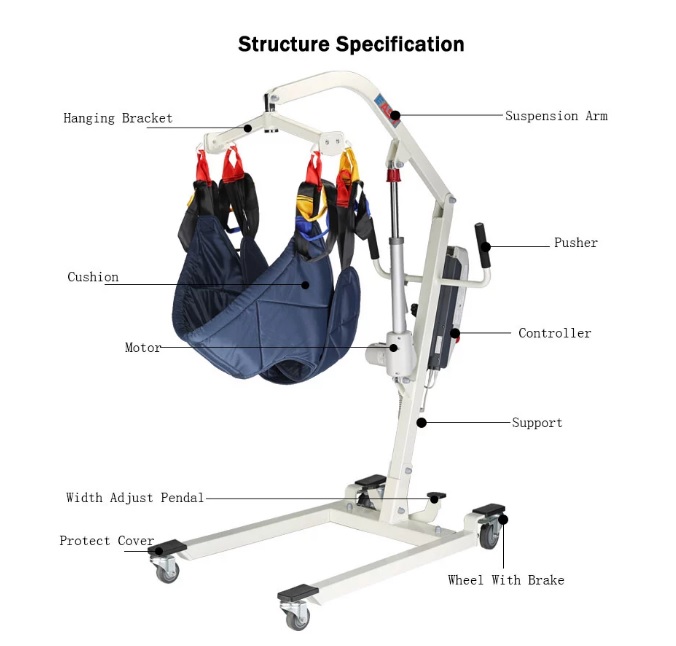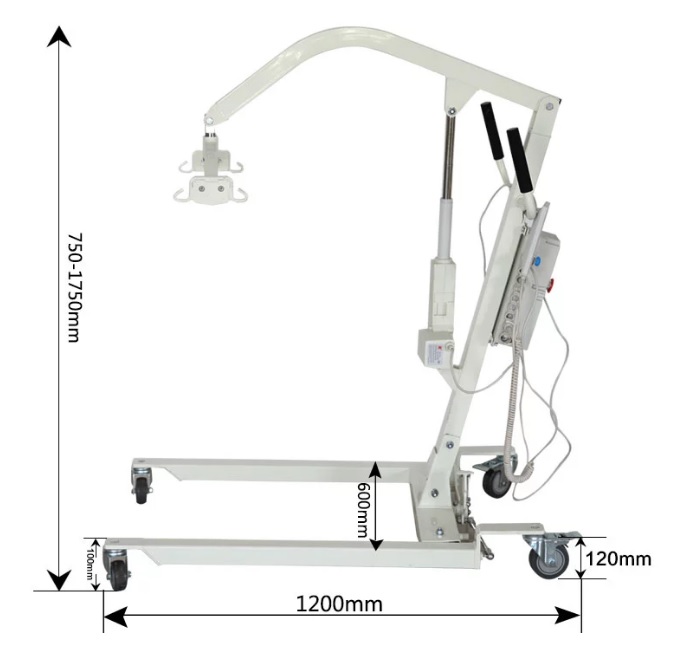 Safety
Pre-use of product:
Assemble the product according to user's manual.
Properly fix the actuator onto electric patient lift.
Charge the battery no less than 4 hours until fully charged.
Read user's manual carefully until it is fully understood.
Appropriate guide and training shall be taken on users.
For the sake of safety and user's need, please select the right model, size, material, slings and accessories.
 

CBP2 Control Box

– 
Input voltage: 120V AC 60Hz / 230V AC 50Hz (transformer) or 100 ~ 240V AC, 50/60Hz (SMPS)
– Overload protection current on lifting actuator: 5∼9A (on demand)
– Power supply: 24V EI transformer or 29V/1A SMPS
– Max. number of actuators: 2 channels
– Max. number of controls: 1 channel
– Duty cycle: 10%, max. 2 min continuous operation in 20 min.
– IP Protection level: IP66 (EI transformer or internal SMPS) / IPX4 (external SMPS)
– Color: RAL 7035 (front cover), RAL 7016 (back cover)
– Power cord length: 3000 mm (EI transformer or internal SMPS) / 2800 mm (external SMPS)
– LCD display shows status and error info
– Certified: UL (E464256), CE marking MDD 93/42/EEC and 93/68/EEC